I am a fine art photographer in Toronto, intrigued by the juxtaposition of objects and reflections; the ambiguities in what we choose to see; and the permeability between the remembered and the imagined. I am fascinated by the fluidity between the natural and the constructed, and the authentic and the fabricated. I have a passion for nature and seek lines, shadows, texture and reflections, and images that last only a breath. Found objects inspire me and I delight in incorporating them into artistic projects.  
Over the years, I have gradually moved from representation to the invented; and towards conceptual, narrative and political photography. Rather than 'capturing' images, I 'imagine' them, an approach that combines invention with representation. I often use photo-collage and photo manipulation to construct unique and painterly images layered with nuance and narrative which both embrace and displace the original images.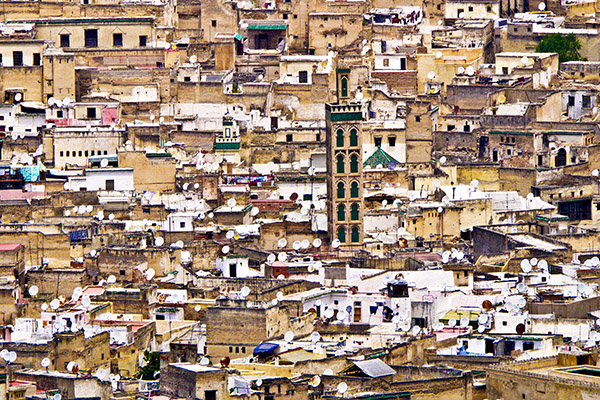 Selected for the International Photography Exhibtionat Viewpoint Gallery in Nova Scotia,
July 2021.
The round white dishes offer a telling contrast to the golden stone of walled compounds and the tall minarets of the ancient medina which was built in the 9th century. On my journeys around Morocco, every small abode had a satellite dish, even in the most remote and rural areas. As if I could travel back in time, I looked for shooting angles to avoid the dishes. Seeking an imagined landscape is often the paradoxical impulse of travel photograhers. Soon I realized the satellite dishes themselves were the compelling feature of the landscape and have now done a series based on these images. The process of looking highlights the ambiguities in what we choose to see.
GUIDE TO WEBSITE
The Galleries page offers seven theme groupings: Portraits Re-invented; Honouring Nature; Reflections; Eco-Musings; Conversations; Imaginings; and Geometries. Click on each one to visit the photo series relevant to that theme.  
Ekphrasis refers to the cross-inspiration of art disciplines. The Ekphrasis page links to musicians, poets and dancers reflecting on my photographs. Click on each box to see the poem, hear the music or watch the dance.

The Writing page offers links to fiction, creative non-fiction and scholarly publications I have written.
For a full resume, click on CV.
You can reach me at <lbriskin@yorku.ca>
Thank you for visiting.